After an unfortunate and unceremonious exit with the Note 7 last year, Samsung is back in full force this year with the Note 8, and it's easily the best Note device to date.
If you read the reviews last year, you'd find reviewers calling the Note 7 almost perfect. How do you improve on something that's almost perfect?
Well, Samsung's response to that was the introduce the Infinity Display in the S8 and S8+, and now to bring that same, amazing display to the Note 8.
What can take advantage of a large display better than a canvas for an S-Pen and the vast multi-tasking capabilities of the Note series?
Design & Build Quality
The design of the Note 8 is absolutely stunning. Taking very clear clues from the S8+ and the Note 7, you now have a gorgeous, large, yet very useable and manageable, 6.3" inch display with almost no bezel on the sides, and extremely minimal on the top and bottom to keep the screen clear and the symmetry of the phone pristine.
The glass melts down the sides to meet with the glossy aluminum frame. I will say, the smoothness of the transition from glass to metal isn't as smooth here as it was on the Galaxy S8+. This is understandable because of the choice to introduce a tighter curve on the Note 8 to allow the S-Pen to have a larger surface to write on, but I can't help but think Samsung could've done a little better here.
The cameras on the back are flush with the body, no more camera bumps. Next to the Cameras, we have the Fingerprint sensor. Frankly, this is one area where I feel that criticisms are too harsh on. Is it in a less-than-desirable location? Yes. Is it bad? No. Truth is, give it a couple days and you'll get used to it. It's different, not bad. And the cameras are specially coated to heavily resist fingerprints and smudges much more effectively than the rest of the phone. On the bottom, we have the USB-C jack, a headphone jack (good guy Samsung), the speaker grill, and the S-Pen slot. On the left side a volume rockers with up and down merged into one, and the Bixby button below that. More on Bixby later.
All in all, the Note 8 is every bit as gorgeous and striking as the S8/S8+ that came before it. Know that when you own one of these devices, you will definitely feel like you're holding a truly premium and excellently built device.

Image courtesy of apktechnical.com
Performance
The Note 8 packs the same processor as the S8/S8+ with the Snapdragon 835. However, Samsung has upgraded the RAM of the Note 8 to 6GB, up from 4GB. Though, I don't think you'll see any differences with that change. We've reached a point in smartphone performance that nearly all the flagship devices have such high levels of performance (from a raw power perspective) that it's almost pointless to talk about it. Fact is, if you buy a phone in this price tier, it will be fast, and it will be powerful. However, there is something else to consider, and that is UI fluidity. Samsung has gone to great lengths to improve this on their devices and in my experience it's really great here, with almost no lag ever; however, the fluidity of the interface, isn't as buttery smooth and slick as a Google Pixel or an iPhone. Samsung needs to focus on reaching that solid and stable 60 FPS framerate in their interface if they want to compete with the Pixel in terms of day-to-day UI fluidity.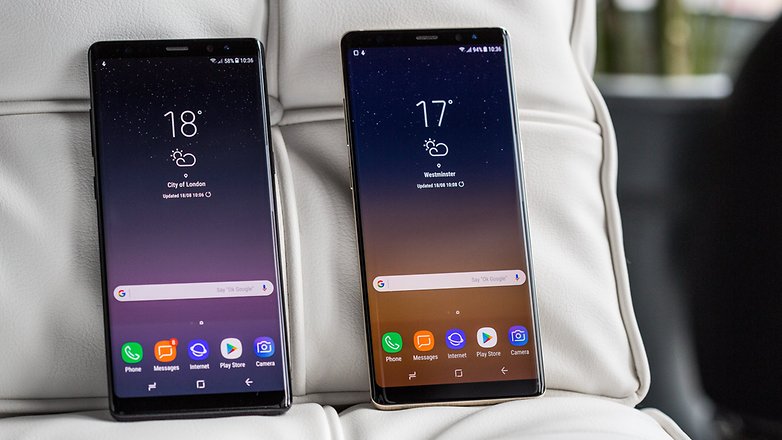 Image courtesy of fonpit.de
Software
Gone are the days of the dreaded TouchWiz experience. Enter Samsung's new UX design, now known as Samsung Experience. Introduced with the Note 7 and the Galaxy S8, the Samsung Experience UX is a much cleaner, more intuitive, and more visually pleasing design compared to the old TouchWiz UX that old Samsung phones carried. Not only that, but it's significantly faster, and no longer feels clunky. I'd even go so far as to say that it doesn't feel like a "skin" on top of Android anymore. It feels more like what Samsung truly intends to have their OS look and feel like.
New features like "App-Pair" allow you to preset sets of apps that you commonly use together in multi-window mode, to open up at the same time.

Image courtesy of CNET
It's additions like these that Samsung is known for these days. Adding Quality of Life improvements for day-to-day usage, to make tasks and things you do regularly easier and faster.
It's in that same vein that Samsung wants to push Bixby, the virtual assistant that Samsung has decided to go all in with, by adding a physical button for it on the left side of the phone. That was a bold move with the S8/S8+, but how has Bixby fared since then? Well, to be honest, Bixby has gotten way better, but it still isn't great. The button is considerably more responsive now, and the available commands have increased greatly. Bixby is finally beginning to deliver on the promise of being able to control the device with your voice, with things like being able to tell Bixby to turn your WiFi on and off or to open the camera and take a picture. Bixby has a long way to go and having a different goal in mind compared to Siri and Google Assistant means it may stand a chance. Write up on these assistants coming at a later date.

Image courtesy of express.co.uk
Camera
One of the major improvements over the S8+ is the addition of a second camera module on the back of the device. This is the first phone Samsung has produced with a Dual-Camera setup on the back. Samsung has opted to go with one lens being the same 12MP f/1.7 as in the S8/S8+, and in addition to that a 12MP f/2.4 2x optical zoom lens. What this means is that you can now simply tap the 2x button and it'll switch between the two cameras, one being "wide angle" (which it really isn't, because it's only "wide" relative to the other lens on this phone) and the other being a zoomed in Telephoto lens. No more digital zooming and losing quality in the process!
Now, it's worth mentioning that the telephoto lens has a smaller aperture of f/2.4 so it won't work as well in low light as the main camera, but it should still perform pretty well, namely because Samsung made sure to include Optical Image Stabilization (OIS) in both cameras! Notably, the pixel size of the telephoto lens is also smaller at 1.0µm, whereas the wide angle lens is 1.44µm. This is important because larger pixels typically result in clearer images with less noise.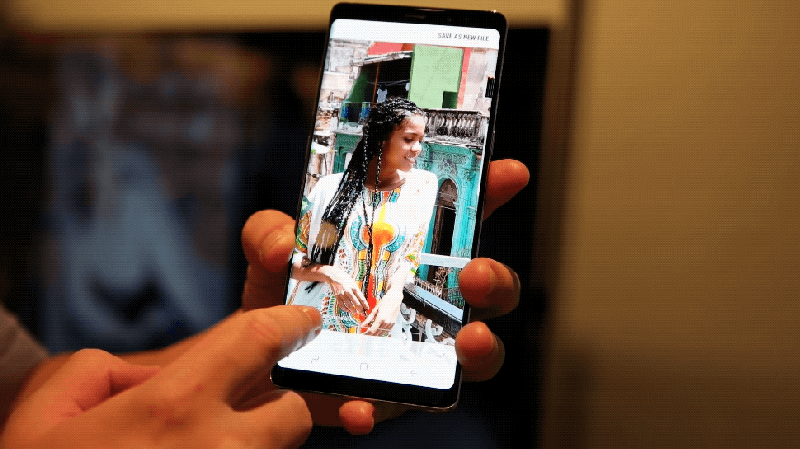 Image courtesy of Gawker
The new bonus feature that Samsung added is called Live Focus. It's basically like Portrait Mode on an iPhone, with 2 main differences. The first is that you can control the amount of background blur in the photo even after you've taken the photo! The second is that the camera will take shots with both cameras at the same time so that in case you find your main shot was sub-par, you have the main camera version as well for you to play with.

Image courtesy of WCCFTech
Battery
Similar to what happened last year with the Note 7 (relative to the S7 Edge), the battery in the Note 8 is smaller than the one in the S8+. Specifically, it has 200mAh less capacity. The reason for this is primarily because of the S-Pen. The device itself is only a tad larger than the S8+, but has a large portion of it taken up by the S-Pen slot, and an additional back camera. Additionally, Samsung probably didn't want to push the battery capacity too high, to prevent any issues like the ones that happened with the Note 7. That being said, I should add a couple of notes here regarding the battery. Samsung has implemented a massively overhauled safety program to ensure that the creation of the batteries is extremely rigorously designed and tested to prevent any explosions or problems. These new batteries don't explode at all, even if you cut them with metal (which in most cases should make it explode). This means that Samsung has really innovated with the safety of these batteries. Finally, they also added a new benefit to these batteries. They extended their lives. Whereas prior batteries would have about 20% of their maximum life depleted over 2 years, Samsung is claiming that these new batteries would only lose about 5% over 2 years. This is excellent news because, in theory, it means that your phone will last longer over time!

Image courtesy of Samsung
Now, regarding daily battery life. I'm sort of on the fence with this one. It's been somewhat hit or miss and I'm almost completely positive that it's a software related matter. There are days where I will get great battery life within 4.5-5.5 hours of SOT (Screen-on-Time), and there are other days where I'm only at about 3.5 hours of SOT. That's a pretty big spread, but as always, battery life really depends on what you're doing with the device. 3 Hours playing a game is not equal to 3 hours browsing the web. Knowing this, as a reminder, research shows that the average person spends anywhere from 2.5-4 hours a day on their phones, which means that for most use cases, the battery life of the Note 8 (and definitely the S8+) is more than suitable for everyday needs and getting through the whole day. I work at a desk and can put my phone on a wireless charging pad most of the day, but I've been avoiding doing this and have been getting home with about 30-40% remaining pretty regularly.

Image courtesy of CNET
The S-Pen
The S-Pen is the main reason why someone should get a Note device. There's nothing like it on the market and fortunately, that hasn't stopped Samsung from making it better over time. Whether it's with Screen-Off Memo, which allows you to take a note on the device without ever turning on your screen, or taking high-quality GIF's at will just by selecting something on your screen, the S-Pen is a powerful tool that allows you to do things that no other device can. It's truly liberating sometimes. Also, Live Messages are super fun! And save as GIFs so they work everywhere!

Image courtesy of Techcrunch
Personally, I use it for photo editing on the go, taking screenshots and quickly jotting notes on them (or instructions to send off to someone who needs help with an app), and for signing documents quickly and easily. The photo editing aspect is really powerful because you can use something like Adobe Lightroom to mask images with precision to make your changes much more accurate.
The S-Pen is something that you'll either love and will use all the time, or will think is fun and will forget and never use it. You have to try it and use it for a while to figure out which one you are. If you are the latter, don't buy the Note 8 (unless you're really into the dual camera setup), and just get an S8+ instead. If you do like it, Note 8 is the best phone you can get.

Image courtesy of Samsung
Verdict
The Samsung Note 8 is the best phone Samsung has produced to date, and it's an incredible device. The Cameras are some of the best available on a smartphone. The display is unmatched by any device (even the upcoming iPhone X has only about half the peak brightness of this display). Performance is some of the best you can get right now, beaten only by the iPhone 8/8 Plus and depending on what you're talking about the OnePlus 5 and Google Pixel/XL. It's a beast of a phone.
Ultimately, if you're looking for the best device currently on the market, think you could really put the S-Pen to good use, AND you can justify the price ($929+tax if purchased outright), then you'll be extremely happy with the Note 8. If you find that price steep, and you don't think you'd use the S-Pen much, then I'd recommend going for the S8+ for now as it has just about all the features of the Note 8, except the second back camera (the first one is identical to the one in the S8+) and the S-Pen.
Enjoy the Samsung Note 8, you won't be disappointed.